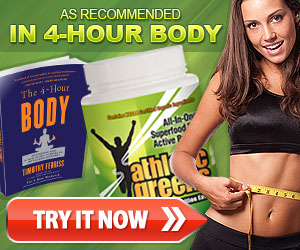 Constipation seems to be one of the most common challenges that people experience with the 4 hour body slow-carb diet, and when you think about it, it's probably to be expected given Tim's no fruit policy and increased meats/proteins which typically take longer to digest for your body to digest. You just cannot under emphasize the importance of elimination. This article brings together information from Tim Ferris, together with advice from Medical Doctors, Naturopaths and myself, an RN.
Many four-hour body people report that constipation is a temporary experience, resolving within a couple of weeks, whereas for others, weeks pass without any great improvement. There is some suggestion that more food and nutrients are being absorbed on this diet, and therefore there is less waste. Many people express great distress at the thought that retained waste also adds to the kilos and pounds.
So, lets look at some solutions. Tim Ferris doesn't talk about constipation at all directly, but he does recommend several different things that will assist with constipation- Yerba Mate tea to increase the speed of gastric emptying, but he talks about the incredible power of Athletic Greens, like no other product mentioned in the book. From all accounts Athletic Greens is an outstanding product containing probiotic- necessary bowel bugs that promote healthy bowel function. Tim also recommends magnesium and potassium supplements which will both help prevent and eliminate constipation. But, really, for so many reasons,  Athletic Greens is an absolute must to try for yourself. There is nothing out there on the market like this.
Some other things worth considering are sit down to eat, and taking your time to eat and chew your food. Chewing promotes the necessary gastric juices that promote good digestion. Rushing and eating quickly, inhibits these important gastric acid production and also you don't get the important feedback mechanism working to tell you when you are full. Drink plenty of water and eat water rich vegetables and foods like soups. A good water intake is very important and may be the single most important tip of all. To ensure optimal liver function for fat loss, increase hydration is also a must. The Mayo clinic recommends around 3 L of water (13 cups) per day for men and 2.2 L for women (9 cups).
Some people find that eggs can be constipating, particularly hard boiled eggs. So scramble, or fry eggs, and consider not starting the day with eggs. A great way to start the day is with the juice of 1/4 to 1/2 a lemon freshly squeezed into hot water. The lemon promotes weight loss, and the hot water first thing in the morning, gets your gut moving, promoting motility. Consider replacing some of the heavier meals with fish as protein which is easier to digest. Good quality oils may also be highly beneficial Udo's oil. And lastly, increasing your fibre intake with fibrous vegetables likegreen beans and asparagus.
Another thing to consider, is that some naturopaths advocate eating according to your blood type and suggest that O+ blood groups (the most common blood type) do not do well on legumes with the exception of adzuki beans. Reducing legume consumption, to just these adzuki beans has worked well for some people until the symptoms reduce. Other people have used colonics or colonic irrigation to get them through the first couple of weeks.
Aerobic exercise particularly first thing in the morning is also very helpful- walking, running, trampolining,  rebounding on a mini trampoline, dancing. Your choice, just move your body!  Clockwise massage of your abdomen is also very helpful for promoting peristalsis, and getting things moving.
And lastly but very powerfully, use some power that few people know about- engage the power of your subconscious mind. Just like you can set an intention and direct yourself just before going to bed, to wake up feeling bright and ready for anything at a specific time- say 6.05 am  (without an alarm). Like magic, you will wake up either just before or right on time.   You can also set the intention before going to bed wake and promptly and visit the bathroom.  Go on, try it!. We would love to hear your feedback.
Save some time and money buy getting these good deals online, delivered to your door.